This post is being published pretty much exactly 43 years to the minute after I was born into this world, in the middle of a snow storm that my parents had to drive through in a 1977 Honda Civic Hatchback. For reasons I can't possibly fathom, I sometimes think about this car and the stories that my father would tell me. Perhaps it's because he would tell the same stories multiple times while other family members would occasionally fill in the gaps over time. As I grew older, these stories revealed quite a bit of my young father's character.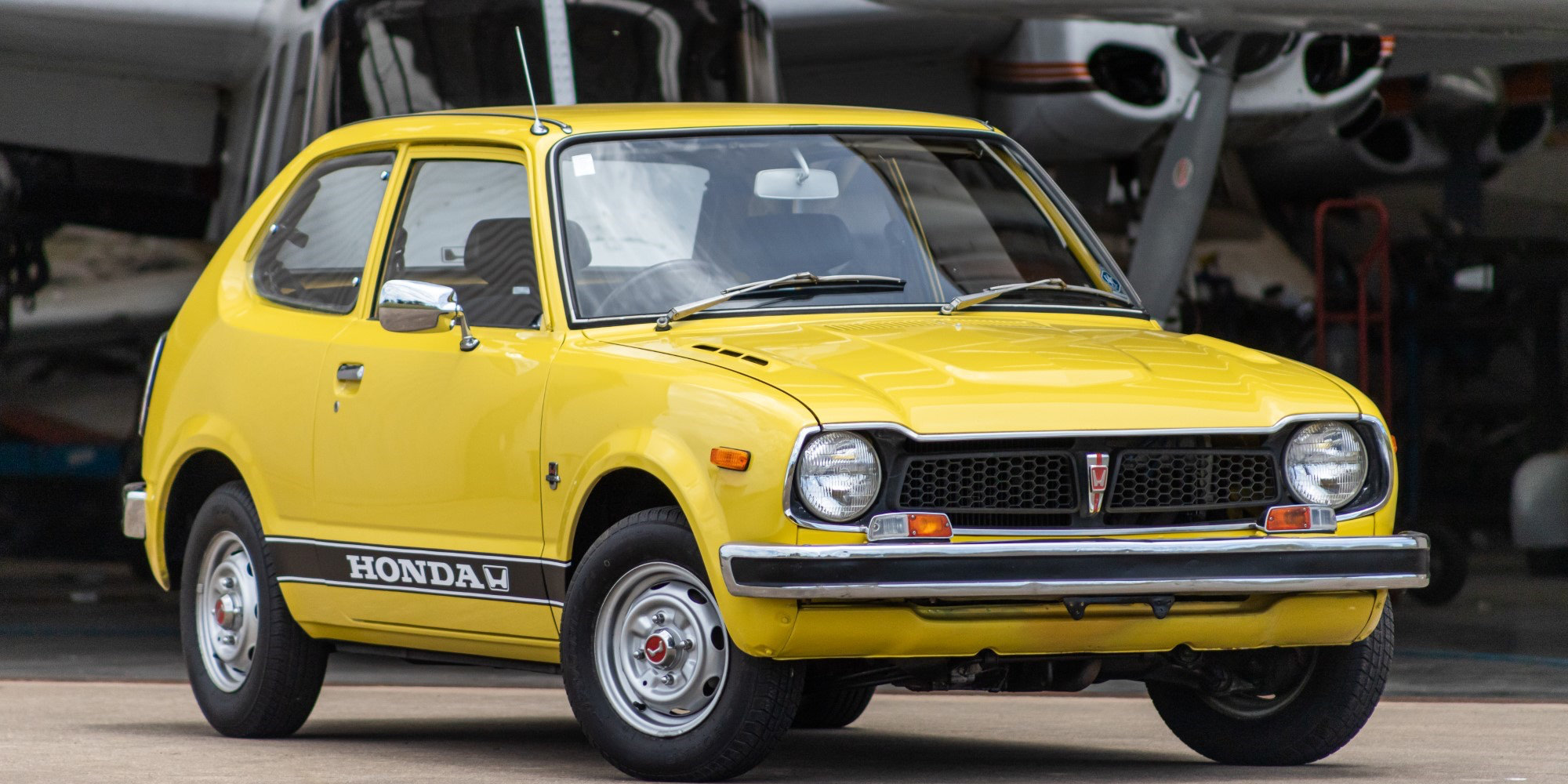 The collection of stories begins at some point in mid-to-late 1976, and the Honda was bought brand new off the lot of a dealership not too far from the hospital where I would later be born. My father saved money for years to get a car and, in a moment of youthful exuberance, he picked this Honda as it fit his budget and was something he could drive off with the very same afternoon. The colour was something that a lot of people laughed at, as my father has never been a flashy individual. He's always preferred dark colours and would have preferred a black Civic, but this would have required a car to be ordered from nearby Toronto. He would have to wait until the following Tuesday, but it was Friday and he wanted a car for the weekend. So, being just 19 or 20 years old at the time, he gave in to impulse and accepted a lemon yellow car that was not only a "cheap Japanese import", something rarely seen at the time, but a vehicle that shipped with seat belts as a standard!
The two-door car had an automatic transmission, an AM/FM radio with an 8-track cassette player, and not much else. Despite the lack of luxuries that we all take for granted today, my father loved this first car. To him, this was a symbol of being an adult; a free adult. And, like many young adults who are still experiencing a high from a big-ticket purchase, he decided the first place he would go after driving off the Honda dealership's lot would be McDonald's.
There are many traits that I share with my parents. I look just like my mother, but I act just like my father; he is a creature of habit. So when he pulled into the McDonald's Drive-Thru to order some food, although he has never told me exactly what he ordered, I know with almost absolute certainty that his lunch consisted of a Big Mac, a large order of fries, and a strawberry milk shake. Nothing masks the fresh scent of a new car like McDonald's and the scent was going to be masked almost instantly because, as he drove away from the pick-up window with his meal, he would quickly learn that cup holders are probably worth the expense.
The curbs in Georgetown, Ontario were quite steep until the 1990s, which means that any vehicle pulling into – or out of – a lot would tilt several degrees and bounce as the shock absorbers tried to compensate for not being in equilibrium. My father had his milkshake held between his legs as he drove away from the restaurant, which resulted in a lesson in physics. The beverage was spilled all over the driver's seat and on the floor mats. While there was nobody else in the vehicle, my aunts would often laugh at how they imagined he reacted. The car, I'm told, smelled of strawberries until the following summer despite the attempts to clean it all out.
There are certainly worse things for a car to smell like.
Over the next year or so my father would be teased about the car's size, it's colour, the sound of its horn, and many other attributes. Because it was so light, the car was once picked up by four of my uncles and turned 90˚ in the driveway, making it impossible to drive the car out as it was just wide enough to sit facing the walls between two houses. Thinking through some of these events as they must have played out, I can see why he didn't really like visiting a lot of family all at once. As the youngest of five children, he must have been teased fiercely while growing up.
In 1977 my father would meet my mother. They'd marry in April of the following year, and I'd come along 352 days afterwards. Christine, my sister, would join us within two years and Laura another two years later.
I don't have many memories of the car myself except one, which would have taken place during the spring or summer of 1984. We travelled to Canada's Wonderland, a relatively new theme park just north of Toronto. I was about the same age then as my son is now, which means I would have been a bundle of unbridled energy during the daylight hours. The trip was rather long for a five year-old but, once we arrived, I was so excited that after jumping out of the car I slammed the door shut … and started screaming.
Cars were made mostly of steel in the 70s, which meant that components were heavy. A young child would have to brace themselves in order to open or close a car door. This is exactly what I did, and my thumb was caught between the door and the frame as a result. There was blood. There were tears. There was paper towel … a lot of paper towel. But we stayed at the park, went on the rides, and spent time as a family. Pictures taken that day show me wearing a blue shirt, a black baseball hat, a tightly-wrapped wad of paper towel on my right hand, and a frown so deep it left marks to this day.
My thumb was and still is fine. I don't know how much space there was between the door and the frame, but apparently there was just enough to not slice a child's digit clean off.
The car was eventually sold a few months later. My mother had walked out, leaving my father with three young kids, a mortgage, and crippling credit card debt. Money was tight, and the car was not nearly as necessary as getting the finances under control. Many years later, after remarrying, he drove a K-Car. It was a nice Reliant automobile, but during our drives in that car he would talk about his yellow Honda and wonder what happened to it.