Ten years ago today Nozomi joined the family. She was just 107 days old and so full of life that it was a joy watching her explore the world. Over the years she slowly calmed down, playing less and less with inanimate toys, but she's never lost that spark that makes her the puppy she is.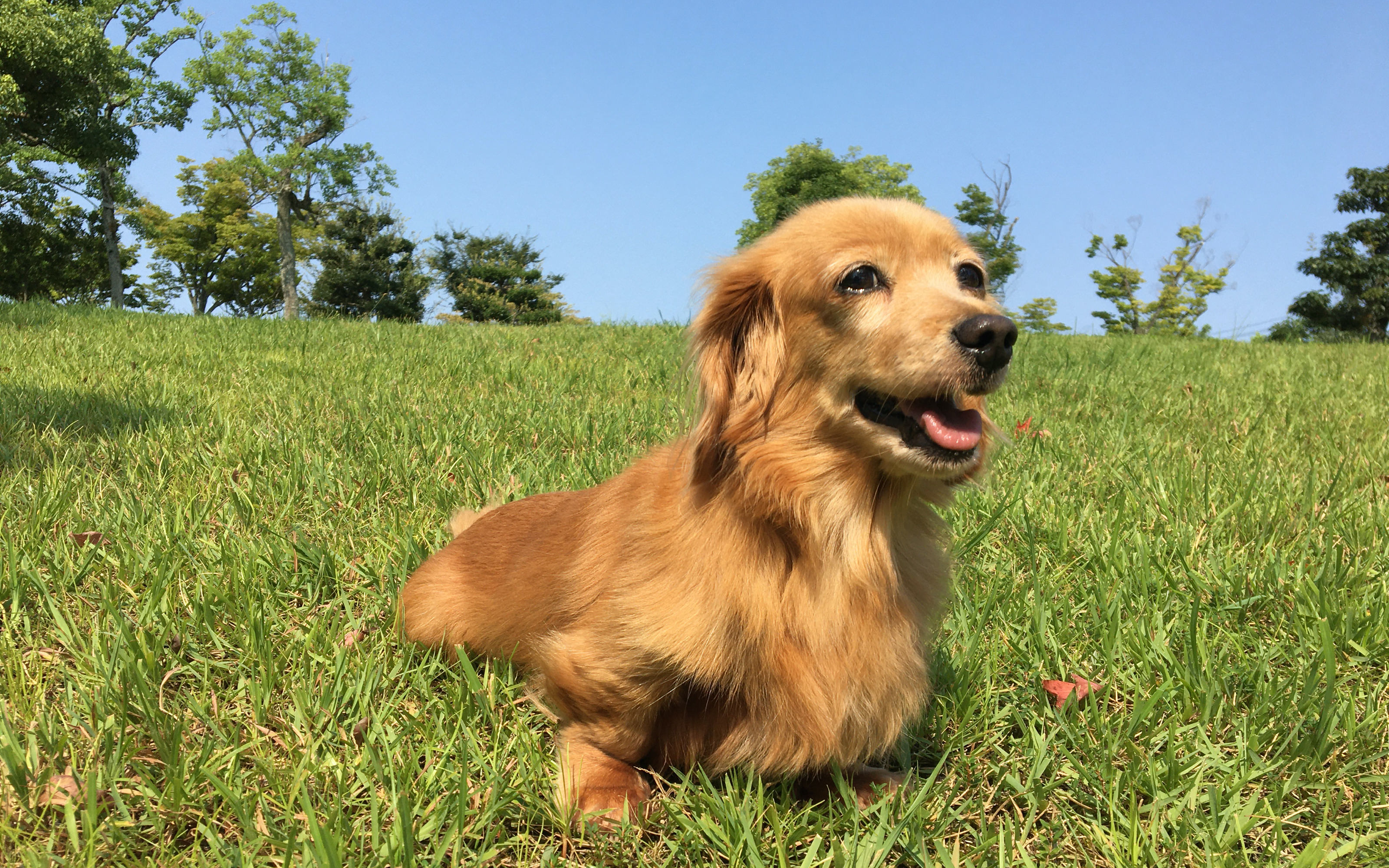 Every so often I think back to the day when we first met and when she came home. The first meeting was a week beforehand, on Sunday the 15th. She was 100 days old and a ball of unbridled energy. The first time I held her at the pet shop in Saitama she started chewing on my fingers as though she wanted the bone inside … and perhaps she did. With a sticker price of 220,000円1, she was just a bit out of our budget for a pet so she was put back into her cage where she very quickly went back to playing with a heart-shaped plushie.
A week later, the day after Reiko and I met up with an old friend who happened to be visiting Tokyo at the time, we went back to the pet shop and saw that the puppy was still there. It was my hope to bring her home because that first interaction the week before had left its mark. I've taken care of a number of dogs over the years, but none were quite like the newborn miniature dachshund that would eventually be called Nozomi2. There was something different about her, and I wanted to be the one to give her a home. So, after lunch on that fateful Sunday, we made the trip to the mall at 流山おおたかの森 and went into the pet shop. Much to my surprise, the puppy was still there … and 50,000円 cheaper3.
When the sales clerk came over I let her know that I wanted the gold-furred puppy that was rolling around on her toilet pad. Some other dogs were barking for attention, including one long-nosed dachshund that shared my birthday, but their attempts for attention went unheeded. It was the girl covered in her own urine that I wanted to invite to the family. The clerk looked happy to make a decent sale and took Nozomi to the grooming area where she would be cleaned up, given a bow, and placed in a box that only recently was sent out for recycling4.
Nozomi, like most animals, did not enjoy being carted about in a small box. She was sticking her nose out of every air hole in an adorable manner while trying to understand what was happening. We loaded her up in the car and drove the 20 minutes home, all the while thinking of possible names for this new responsibility. It wasn't until we got home that the reality of having a puppy set in.
There wasn't a place for her to use the bathroom.
Where would she sleep?
What would she eat?
Oh, crap …
We had picked up a collar and leash at the pet shop earlier that day, but there wasn't a dish, food, or even a bed. We would have to improvise. So, for that first night, Nozomi slept in a plastic crate with a towel we understood would be garbage come the morning. She had a feast of puppy food from the nearby grocery store. She drank water from a bowl that was once used for cereal.
Over the months and years that followed, Nozomi evolved into the incredibly kind and patient puppy she is today. I still call her a puppy despite her age because of how pure her intentions are. There is no malice or disrespect in anything she does. Her heart is as pure and innocent today as it was ten years ago. Being a domesticated animal, protected from the harshness of open nature, she doesn't need to forever worry about food or safety. Everything is taken care of for her … which is why I see her as a puppy rather than an adult dog. "Age ain't nothin' but a number", and adulthood is a mental state more than anything else.
The ten years I've had the opportunity to know Nozomi have been some of the most difficult — and the most rewarding — of my life. She's been there through thick and thin. As silly as it may sound, I really don't think I'd be where I am today without her non-verbal support. I hope she enjoys our time together. I hope she's happy to be part of my family. I hope she lives a long and healthy life. I say these things selfishly, and I say them as a friend. She is very much worthy of the responsibility-free lifestyle she enjoys.
Happy anniversary, Nozomi.
---
This would be about $2,200 USD which, for someone who generally received dogs for free while growing up, was quite the sum.

The first name I had considered was B'Elanna, but this was shot down.

She made up for the cost savings with all the medical attention she's received over the years. I've never tallied it up, because it doesn't matter, but she's likely seen close to 200,000円 ($2,000USD) in medical care over the decade … which isn't bad, really.

Boxes can only last for so long. I didn't want to get rid of it, because of sentimental reasons, but it started to take on a life of its own. The box had to be let go.