There's a lot to be said for consistency. The boy tends to wake up rather tired -- just like his father -- and was not exactly sure why Reiko was so energetic right from the start of the day. After going downstairs, getting cleaned up, and sitting at the breakfast table, the first thing he did was put his head down and let everyone know that 7:45am was far too early to be awake, which is very similar to what he did last Christmas, too.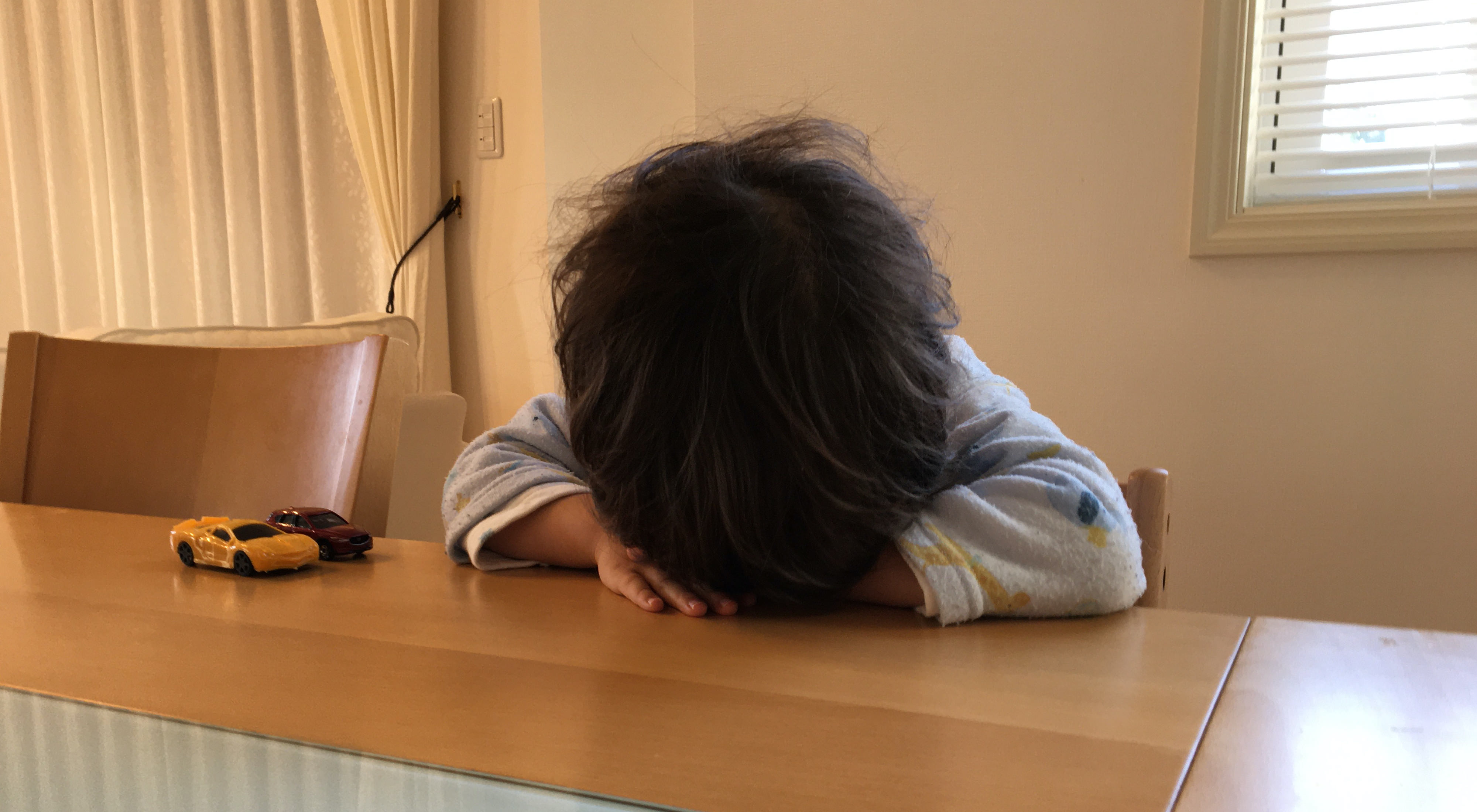 What's funny is that he is usually awake and singing his entire repertoire of songs shortly after sunrise. There's something about Christmas Day that seems to exhaust him right from the very start … which isn't necessarily a bad thing. As someone who needs a few minutes to wake up before even attempting to get out of bed, every extra minute under a warm blanket counts.
However, just like last year, he seemed a bit overwhelmed with all the activities in the morning even before we got to the present-opening. The plan involved breakfast, getting dressed, and taking a couple of nice photos before reaching underneath the tree. He was pretty good for all of this and was pleasant up until he started playing with one of the toys. This was my queue to go upstairs and become Santa, complete with the beard, pillow-based tummy, gold-rimmed glasses, and a whole lot of red.
Last year the boy started crying after "Santa" left due to exhaustion. This year was no different.
The visit went well, though he was clearly shy around a "stranger". We don't have guests over very often, which likely made the visit even more out of the ordinary. The big present was received, opened, and set up. Fun was had. Pictures were taken. Then Santa had to get back to the North Pole. It was around this time that the boy was running on fumes. By the time I came back downstairs after changing back into my regular clothes, he looked ready for a nap.
The clock showed the time as 11:25 in the morning.
While lunch was being prepared, he surprised us again by voluntarily washing his hands, getting into his chair, and waiting for his plate. Afterwards he asked to go upstairs to sleep.
It's not often that the boy will burn through an entire morning of energy so quickly and respond so well to the various routines that must take place before eating or sleeping, but it's great to see that he can actually do everything without fighting every step of the way. If the evening is anything like last year, there will probably be some tears after a couple of hours of playing with his new Tomica set, followed by dinner, followed by books, followed by an early bedtime.
Something tells me this will be the last "calm" Christmas for a while, though.