Last week the family an I were expecting to spend a couple of days at Tokyo Disney, enjoying all of the high-priced sights and sounds of the theme park. This was going to be our first trip to "a faraway place" as a family and a great opportunity to relax and unwind after a year of go-go-go. Unfortunately, Mother Nature had other plans and decided to send a rather devastating typhoon. We cancelled our trip last week and spent the planned time off no different than we would have if I were working1. The typhoon hit us yesterday, but just hard enough to keep us home2, which was quite rough on the boy who wanted to go outside and play despite the 30 hours of non-stop precipitation.

Generally the day after a typhoon hits, we can expect clear skies and cool temperatures. Today was no exception. While Nozomi and I were out walking this morning, I thought it would be a nice idea to head south to Kyoto and enjoy the sights and sounds of a different place. The boy had yet to ride the Shinkansen, so a little bit of exposure to the train might help him relax a bit when we're en route to Tokyo at some point later this year.
Reiko asked me to plan a couple of things to do in Kyoto and that's just what I did. The loose itinerary was simple:
take the Shinkansen to Kyoto station
walk to Umekoji Park (about 750m from Kyoto Station)
have lunch at a restaurant or cafe
visit the Kyoto Train Museum
if everyone's energetic enough, take the train to Arashiyama; a popular tourist destination
Unlike most trips, there were no rigid times associated with any of these items. We'd get to Kyoto when we got there. We'd get to the park when we got there. We'd aim to have lunch around 12:30 so that the boy didn't get too cranky. Then we'd do the rest at a leisurely pace.
Oddly enough, this worked out perfectly.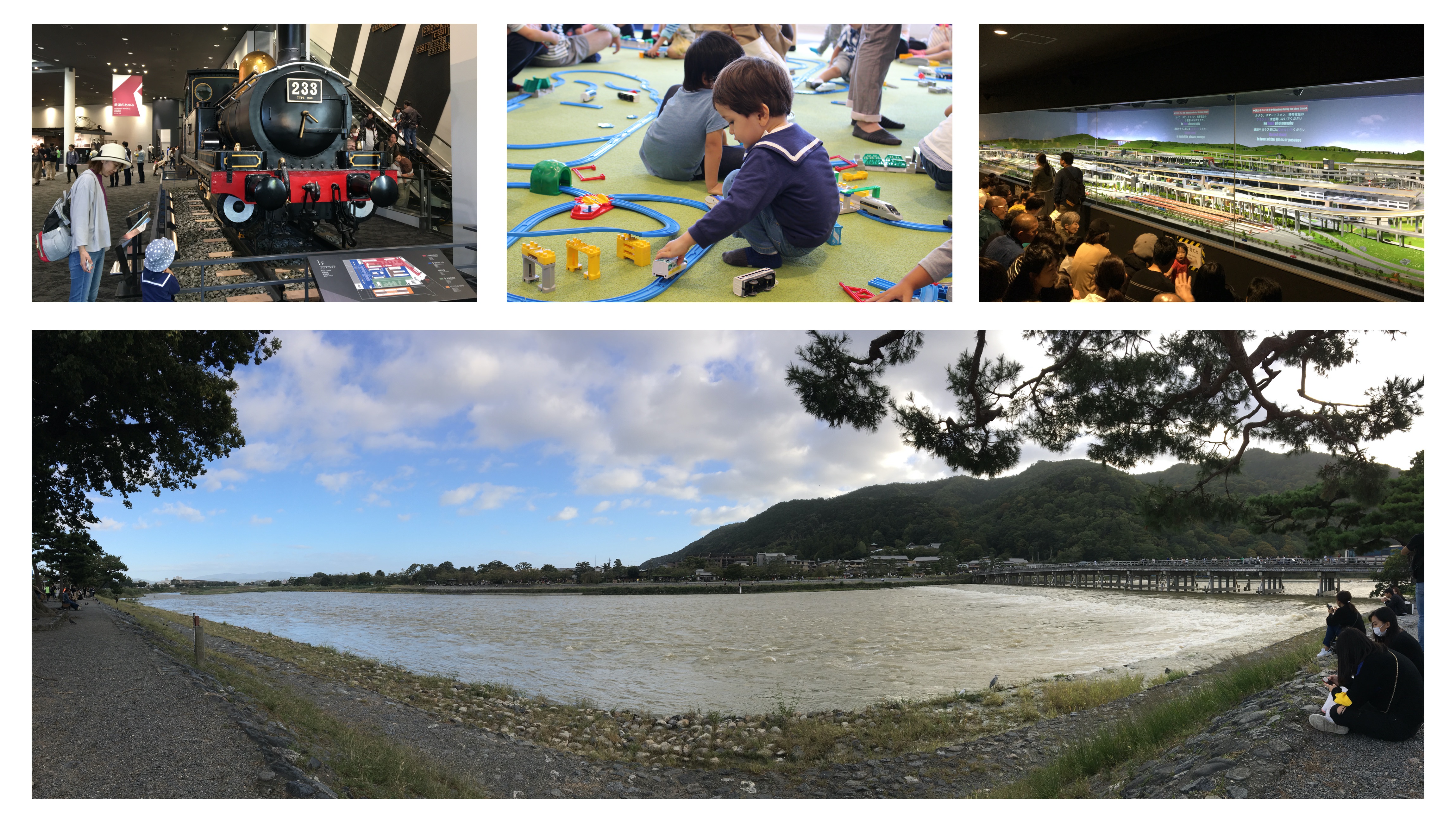 There were a couple of things that we couldn't do simply because there wasn't enough time or because some of the more touristy activities were priced beyond reason3, but the trip was very much the relaxing getaway that we were all looking forward to having last week. Hopefully our next trip as a family will be just as enjoyable.
---
As it happens, I did work every day that I was supposed to be off. There were server problems at the day job, and I pitched in to get things back to normal as quickly as possible.

The wind and rain were quite destructive just north of here. Lots of flooding. A couple of tornadoes. Two dozen people are still missing, too.

4,000 Yen ($37USD) for a 12-minute ride on a rickshaw? Get out of here!