Earlier today @sumudu posted a picture of some oatmeal cookies his daughter made and it brought back a bunch of memories of being in the kitchen with my mother a quarter century ago, making different kinds of cookies and seeing which ones people enjoyed the most1. Several years later, when I was living in Vancouver, I was out with friends and a cookie shop beckoned me to spend money. Inside there was the standard fare such as chocolate chip, double-chocolate chip, and even a double-double chocolate chip2. What caught my attention, though, was an oatmeal cookie that had cranberries and apricot. In Vancouver, a treat like this is called a "breakfast cookie".
As one would expect, I picked up several.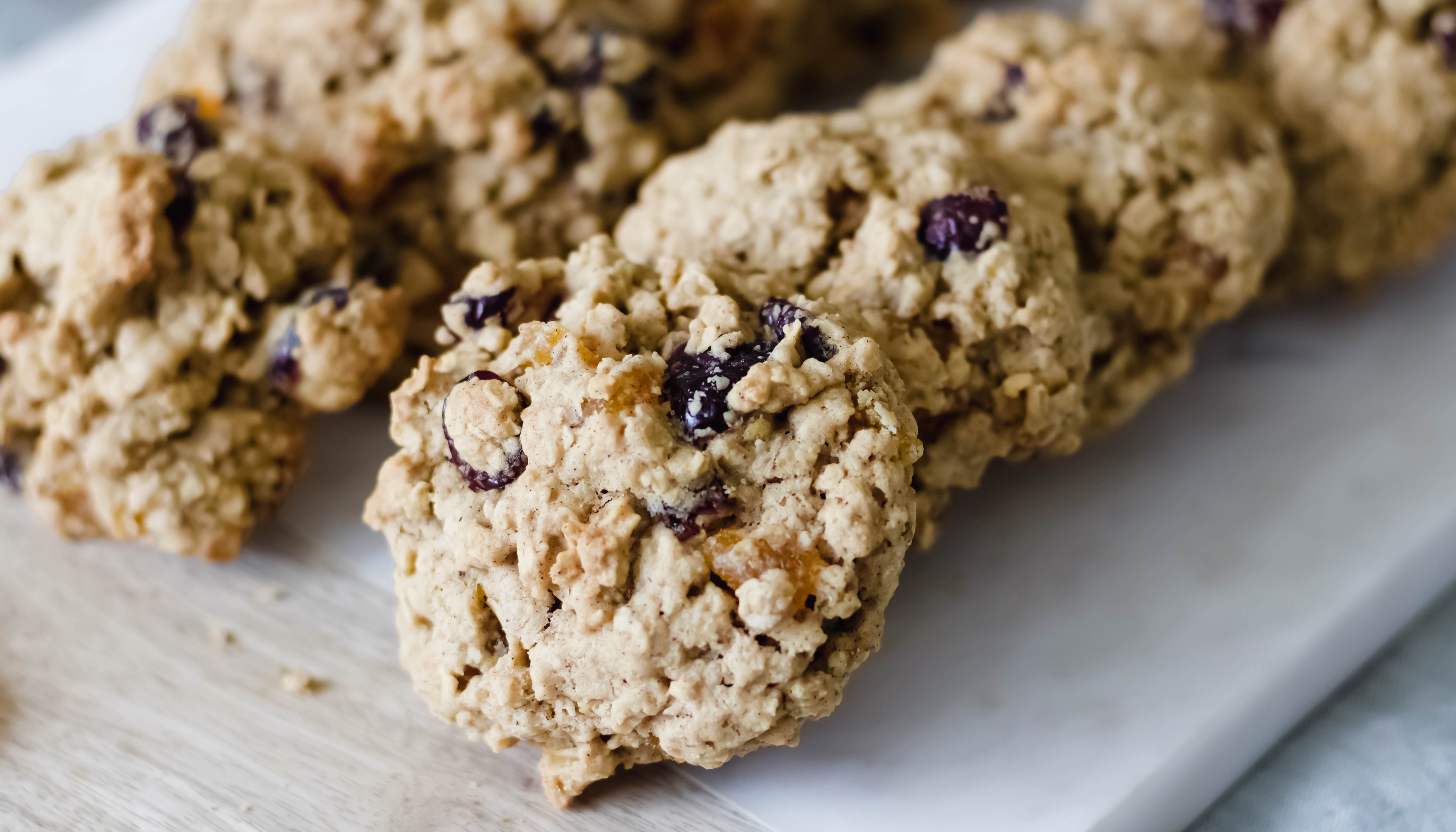 A couple years ago when I started compiling recipes from family to use in my own kitchen, I remembered this cookie and went looking for a comparable recipe online. The recipes I tried weren't quite the same but, with some experimentation, I think I landed on a pretty close facsimile.
Ingredients:
110g unsalted butter, softened (1/2 cup)
⅔ cup brown sugar, packed
1 egg
½ tsp vanilla extract
¾ cup plain flour
½ tsp baking soda
½ tsp cinnamon
¼ - ½ tsp sea salt, to taste
1½ cups rolled oats
1 cup dried apricots, diced
¾ cup dried cranberries
Directions:
Line a pair of trays with baking paper
Using an electric mixer, beat the butter and brown sugar until combined
Add the egg and vanilla and beat until smooth
Turn the mixer onto a low speed, and add the flour, baking soda, cinnamon, salt and oats, just until everything sticks together
Stir in the apricots and cranberries
Use a tablespoon to scoop TimBit®-sized3 balls of dough on the prepared trays
Flatten the dough just a bit
Refrigerate the trays for about 30 minutes, which ensures the cookies bake up thick
Several minutes into the chilling time, preheat the oven to 180˚C (350˚F)
Bake the cookies for about 10 minutes, until the edges are golden and the centres still soft
This will make about 14 decent-sized cookies and the house will smell absolutely delectable. The last time I made these — about a year ago — the neighbours across the street came over to see what was in the oven. They were surprised to find that I was the one baking the cookies and they were more surprised when they had one. Oatmeal is not very popular in Japan for some reason, but the batch of treats I made didn't make it to the end of the next day.
I may just need to set a reminder to make these in the autumn when cranberries are not priced into the stratosphere.
---
Everyone seemed to love the sugar cookies the most, though I was always a fan of the crunchy peanut butter cookies. Mum put a stop to these after a while, though, because peanut butter started getting quite expensive in the mid-90s.

This was named after the excessively sweet, excessively creamy Tim Horton's coffee order that was so popular at the time. It was a milk chocolate chip cookie made with coffee. At around $3 per cookie, I never tried it.

A TimBit® would be the "donut holes" sold at Tim Horton's. These would be about 3cm in diameter, give or take.