Last month when someone wanted to find a specific post on my blog they would open the archives page, type in a few keywords, and let the incomplete search mechanism try to find the item they were looking for. If that didn't work, then clearing the filters and scrolling down would show every post in reverse chronological order going all the way back to April 1979. The default blogging theme on v5 works a little differently in that the search box is available on every page and, unlike the previous mechanism, will actually result in a database search. As people had a way to find items on a site, it never crossed my mind to build a page showing a site's table of contents until Larry reminded me.
Whoops.
Fortunately, building a page like this isn't incredibly complicated. The fact that the archives page does not need a search box also means it's possible to change how the page displays information. But how could the information be changed to show things that people might want to see? I thought about this question a bit this weekend and came up with this: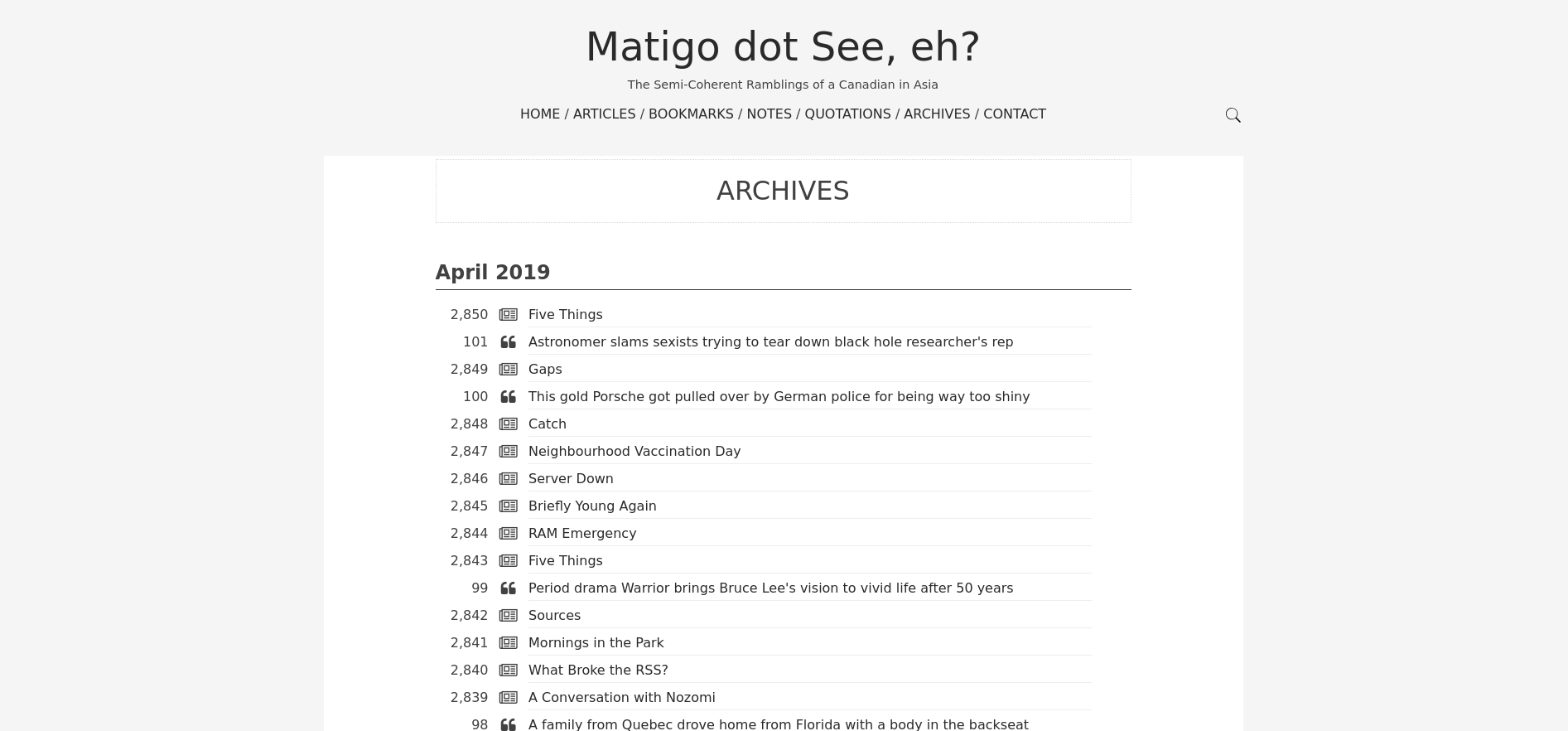 There were a couple of things that I liked about the previous design:
posts were numered
posts were grouped by month, with the month being a title
grouping was done based on the time zone of the reader, not the author
These three features needed to be brought forward with the understanding that Bookmarks and Quotations would also appear on the archives page. Social posts, called notes, are not visible in the archives as this would be noise. Should there be a need to see all social posts in reverse chronological order, there is always the Notes page.
The previous version of 10C generally cheated with the archives page by presenting a blank page, querying the API for a list of posts with supporting meta data, then building the results. This works in most situations, but can cause some headaches for search engines that do not parse JavaScript or for people using a browser with JavaScript disabled. To help resolve this, archives are now presented in plain HTML and then modified after the fact.
One item I'm not too sure about at this point is the numbering. As the screen capture will show, the numbers count differently based on the kind of object. Articles, bookmarks, and quotations are all shown with an icon unique to their type, and the counter is for that type as well. Does this make sense? Does it matter whether these are split apart at all? Could everything have the same icon, or none at all, with the understanding that clicking the title will bring you to the author's page regardless of the type? I'm not 100% sure. Fortunately, the community on 10C will let me know when something doesn't quite work or needs improvement.
The archive theme was deployed with release 19D150 which is live on the server now. Every site with at least one article, bookmark, or quotation will see the "Archives" link in their navigation menu.