After a frantic couple of days last week, I managed to carve out a two hour period this afternoon to just get out of the house, sit on a mountain, and listen to a podcast with my eyes closed. The forecasted rain was nowhere near as strong as predicted, making the isolation quite enjoyable1.
This next week is going to see me work on several important updates to four of my active projects, all of which are built on the same software powering this site. A little bit of me time was necessary, and it also gave me plenty to think about, including:
Planet Hoph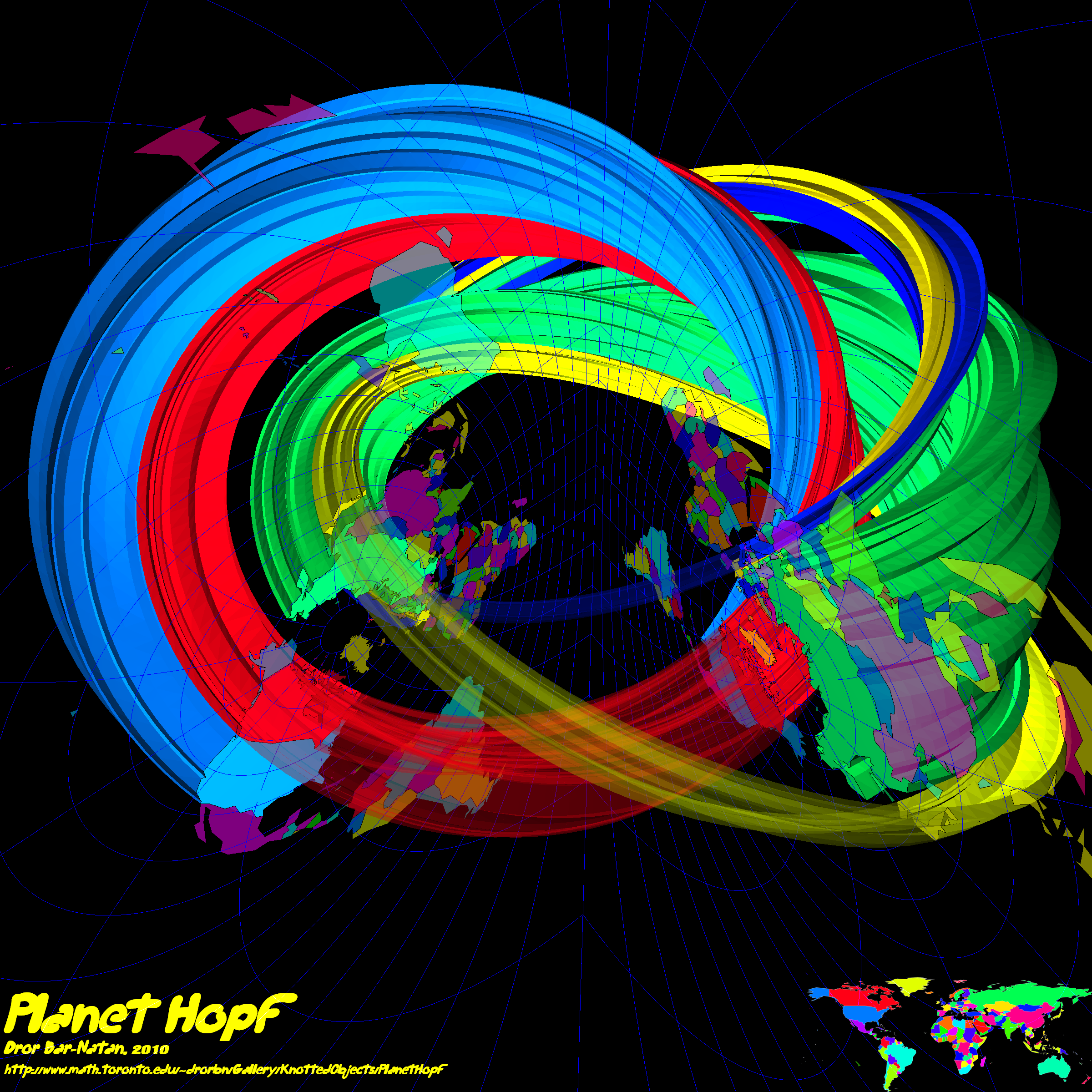 I just learned about this representation of the Hopf fibration today. I would have appreciated this 20 years ago when I studied differential topologies, as it would have saved a week or two of WTF? moments.
Thanatophobic?
Far too much of my time (on a human sale) is spent thinking about time on a grand scale and it's implications. As of this moment, every living entity that we know of on the earth is equally mortal. Some may experience more seasons than others, but we will all return to the earth at some point. Earlier today when I was thinking about Nozomi's eventual passing I was reminded that I'm not at all afraid of my eventual death, but that if others. When I die, that will be the end of me. I've done what I can to ensure family will be taken care of2. It might not be easy for some members of family, but there won't be anything I can do about it. If others pass away before me, though, then they're forever in my memory but forever gone. I've lived 40 years and only been to one funeral. Silly as it sounds, I am not at all sure how I will react when a close member of my family, be they human or otherwise, passes away. It really bothers me.
Not Appropriation
We can't seem to go more than a dozen minutes without there being some group of people "voicing concerns" about cultural appropriation and how it's detrimental to the uniqueness and vibrancy of cultures and civilizations. As an immigrant to Asia, I wonder how much of Japan's culture I've appropriated and whether it's a bad thing, given that I'm from Canada with dozens of generations of ancestry that hails from England, Ireland, and France.
I have a very Japanese work ethic, often resulting in warnings from family and colleagues about 過労死, which literally means "dying from overwork". Is this cultural appropriation? Should I feel bad about myself?
I eat with chop sticks and generally stay away from silverware unless buttering toast or eating yogurt. Is this cultural appropriation? Should I feel bad about myself?
I speak, read, and write Japanese to a certain degree. Enough to buy a house and live day to day in the country, anyway. Language is very much a part of culture, so have I appropriated it from native-born Japanese people and sullied it for my own gains? Is this appropriation and should I feel bad about myself?
Or is the entire "cultural appropriation" argument just a straw man for something much deeper that people are unaware of or unable to adequately articulate?
I've lived a very Japanese life for much longer than I've lived in this country. Ever since I read about the country in the Collier's Encyclopedia set my father bought when I was young the nation, it's people, it's history, and it's culture have been absolutely fascinating to me. So much so that I boldly said to my parents at the age of 14 that I would live in Japan one day. And here I am. Have I appropriated the culture? No. I have assimilated it and, by doing so, have an appreciation for a lot of what's been learned. I emulate the parts of the culture that align with my existing beliefs, and I avoid the things I have no interest in.
People have been doing this since before we left the trees. Cultures evolve and borrow from one another. Most of the appropriation arguments that I've read, admittedly on left-leaning websites, seem to believe that cultures should operate in complete isolation and be practised only by those with a genetic link to its history, which is pretty much impossible and a recipe for disaster3.
Rain on the Window
Last Friday marked one year since the family moved into our new house, and it's been quite a step up from our previous living arrangements. One of the more interesting things that I've enjoyed about living in this house is the sound of the weather as it hits the exterior walls and windows. Regardless of how windy the day is, it sounds as though a gentle breeze is caressing the siding. Heavy rains sound like the gentle refilling of a modern toilet: water that's running, but in no hurry.
It's lovely to just sit back and listen to the house … when the boy is sleeping and background noise is eliminated.
6:15am
This seems to be the new time for the boy to wake up and instantly start talking. If I wasn't consistently working until 1-to-2 o'clock in the morning, then this wouldn't be a problem. Unfortunately running on just four hours of sleep a day catches up to a person. How do parents of multiple children manage to work and sleep? Is it a myth that parents get any sleep at all?
---
The mountain I enjoy sitting on is in the middle of a park. When it rains, the whole area is pretty much deserted aside from a few stragglers like me who just want to enjoy the quiet. There are covered gazebos at various points as well, which makes sitting in the rain possible, so long as it's not a "Vancouver drizzle", as the only protection from that is not going outside at all.

In the event of a natural death the mortgage will be paid off, Reiko will receive $150K in cash plus the cost of any funeral, and the boy will get $75K. In the event of an accidental death, the insurance payouts are tripled.

Cultures (and languages) that don't evolve tend to disappear.